Details Profile of Researchers in BIISS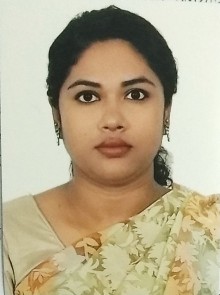 +880-2-48315808, 222223808; Ext. 133
lamya@biiss.org
Biography
Lam-ya Mostaque is Research Fellow at BIISS. As a student of international relations, her research interest is on international politics, looking at it from the perspective of a scholar of a developing country. Hence, she focuses on issues related to development policies and non-traditional security. In the past she has worked on SDGs, climate change, ocean policies and violent extremism. Her current research interests include energy politics and global health governance, with special attention to developing states and rising powers.   
Ms. Mostaque has done her M.S.S and B.S.S from Department of International Relations, University of Dhaka. Lam-ya has been serving at BIISS since 2017.
Areas of Expertise
Energy Security and Politics
Foreign policy of Developing States and Rising powers
Environment and Climate Change
Ocean policies
Publications
​​​​​​Article:
Mostaque, L.,(2020) "Science, Technology and Innovation for Sustainable Ocean Economy: A South Asian Perspective", Asia Pacific Tech Monitor, Jan-Mar Issue. ISSN: 0256-9957. Place of Publication: Bangalore, India.
Mostaque, L., (2019) "Explaining Challenges of Energy Connectivity in South Asia", BIISS Journal, Vol. 40, No. 2, pp. 179-20.
Islam, Moutusi and Mostaque,L, (2018), "Blue Economy and Bangladesh: Lessons and Policy Implications", BIISS Journal, Vol. 39, No. 2, pp.135-162.
Mostaque, L. and Sultana, S. T, (2017) "Exploring Soft power Potentials of Bangladesh: Resources, Limitations and Options", BIISS Journal, Vol.38, No.4.
Book Chapter:
Mostaque, L and Hasan, S. (2017) "Migration and Climate Change: Impacts on 'Slumaisation' in Bangladesh" in  Culture, Adaptation and Resilience : essays on Climate Change Regime in South Asia, Publisher: Bangladesh Climate Change Trust (BCCT) and Department of Anthropology, University of Dhaka, pp.135-148. Place of Publication: Dhaka, Bangladesh.
Research projects
Team Member in the research project on "Violence against religious minorities and indigenous peoples: Towards a non-violent transformation of conflicts", 2017, funded by NETZ Bangladesh
Research Assistant in the project entitled Standardization of the Pre-departure Orientation Services (PDOS) Training Programme for Potential Migrants implemented by the Refugee and Migratory Movements Research Unit (RMMRU) as part of ILO's programme on Promoting Decent Work through Improved Migration Policy and its Application in Bangladesh, 2015
Paper Presentation
Keynote speaker at the NDC-BIISS-BEI Joint Seminar on 3 September 2018. (Paper: Energy Connectivity in South Asia: Bangladesh Context)
Jointly Presented on "Populism in the 21st Century: Foreign Policy and Global Politics" at the International Conference on "Revisiting International Relations: Critical Reflections on 100 years (1919-2019)", 19-20 January 2020, organised by Department of International Relations, University of Dhaka
Jointly presented a paper on "Energy Cooperation in South Asia" at "Policy Dialogue on Regional Cooperation for Sustainable Development in South Asia" on 10 December 2019 (hosted in Dhaka).
Presented Paper on "Trans-boundary cooperation in North East : Opportunities in Energy sector" at the international conference on ""The Age of Multilateralism and Connecting India's North East: Opportunities and Challenges" on 19-20 Mar 2018 (hosted in New Delhi);
Presented paper on "Climate Change Induced migration: Influence of Slumaisation" at the international Conference on  Culture, Adaptation and Resilience : Climate Change Regime in South Asia Organized by Department of Anthropology, University of Dhaka, 2017.
Training Records
"Financing for Development" (with distinction) awarded by World Bank group and Coursera.
"Qualitative Research Workshop". Organized By: Centre for Gender and Social Transformation (CGST), BRAC Institute of Governance and Development (BIGD), BRAC University in collaboration with the School of Social Sciences, University of Manchester.
"3rd professional Certificate Course on PVC- Preventing Violent Extremism", organized by Centre for Genocide Studies, University of Dhaka, 13-17 November, 2018.
Academic Awards and Achievements
Represented Bangladesh as a delegate in "One Young World Summit" held on 18-21 November 2015 at Bangkok, Thailand. Spoke as a young leader from Bangladesh in the "Call on COP" event. link to speech:  http://y2u.be/oBIub8_LZB0
Represented Bangladesh as a member of Bangladesh Official Youth Delegation to China, 26-29 June, 2015.
Scholarships:
Japanese Government MEXT Scholarship 2021 (declined due to personal reasons)
Merit Award, (Highest CGPA in Social Sciences Faculty), Kabi Sufia Kamal Hall, University of Dhaka, 2013
Merit Award Scholarship, (Grade: 1st Grade), Faculty of Social Sciences, University of Dhaka, 2013
Merit Scholarship, Board of Secondary and intermediate Education, Dhaka, Bangladesh, 2009
Merit Scholarship, Board of Secondary and intermediate Education, Dhaka, Bangladesh, 2007
Genius Scholarship, (Grade: Talentpool), Genius Scholarship Foundation, Narayagnaganj, 2006
Junior Scholarship, (Grade: Talentpool) Board of Secondary and intermediate Education, Dhaka, Bangladesh, 2004
Primary Scholarship, (Grade: Talentpool) Board of Primary Education, Dhaka, Bangladesh, 2001